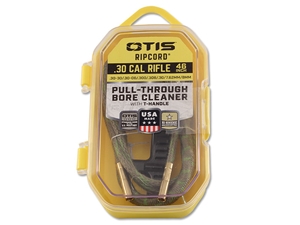 OTIS Ripcord .308/7.62, 30-06, 300WIN 46"
SKU: OTIS-FG-RC-330L

MPN: RC-330L


UPC: 014895007952
as of 03/02/2021 8:14AM CST
Store Inventory
Available Online
More than 10
Fountain Valley, CA
More than 10
The Colony, TX
More than 10

Inter-Store Transfer
If this item is out of stock at your local RifleGear but available at our other location, no problem. Just place your order and select In-Store Pickup as the shipping method. As long as the item is legal in your location, we will transfer the item for you.
You will be notified by e-mail when your item arrives.
For times in the field when you just can't reach your Otis cleaning system and need a quick and effective clean – reach for the Ripcord™. This convenient tool cleans from Breech-to-Muzzle® in one quick and easy pass. The molded rubberized core and Nomex® fibers together create a more effective way to trap and remove fouling.

Includes T-Handle.
46" length
Features
10" of aggressive cleaning surface
Heat resistance up to 700 degrees F
Helix shape engages rifling through the barrel
Nomex® fibers act as both a brush to loosen and a patch to capture fouling particles
Equipped with 8-32 threaded ends to fit all Otis cleaning components