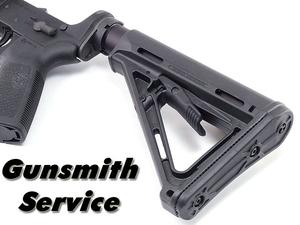 Gunsmith Service: Pin Collapsible Stock
This gunsmith service will cover the labor to pin your collapsible stock in order to convert it into a non-collapsible stock. This modification is required in some states for post-ban rifles. Please specify the position at which you would like the stock to be pinned (Position 1 is fully collapsed to shortest length).

Please call or email for assistance if you are unsure of which position to pin the stock.

Gunsmith services currently have a 3-4 days minimum turnaround, excluding weekends and transit times(shipped in work orders). Turnaround times may vary by store location.
*If you are shipping us your work order, add the specific gunsmith service and ship the order to one of our two locations. Please reference your Order Number or include a copy of your online receipt along with the shipment.
*Note For Shipped In Orders: Customer is responsible for actual return shipping once gunsmith work is complete. Once your work order is complete, an associate will contact you for actual shipping charges.
In stock