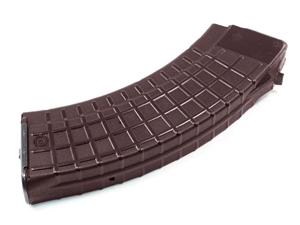 Arsenal AK47 7.62x39mm Waffle Circle 10 30rd Magazine, Plum
SKU: AF-M-47WP

MPN: M-47WP

as of 03/26/2023 7:21AM CST
Store Inventory
Available Online
More than 5
Fountain Valley, CA
Out of stock
The Colony, TX
More than 5

Inter-Store Transfer
If this item is out of stock at your local RifleGear but available at our other location, no problem. Just place your order and select In-Store Pickup as the shipping method. As long as the item is legal in your location, we will transfer the item for you. You will be notified by email once your item has arrived at the destination.
These 30-Round magazines are the highest quality AK magazines that we have available. Metal reinforced feed lips and steel lugs set these top grade
"Circle 10"-stamped magazines apart from the rest. Chambered in 7.62 x 39mm with a 30 round capacity, these magazines also feature a waffle-patterned grip texture.
Plum Colored Body. Offered in limited quantities.

Specifications
Caliber
7.62 x 39mm
Capacity
30 Rounds

Restrictions
Magazine capacities are regulated in many states and jurisdictions. Please understand your local laws prior to ordering. Click here for detailed information on magazine capacity restrictions.