Magpul MOE Fixed Carbine Stock
The MOE Fixed Carbine Stock – Mil-Spec Model provides a fixed, non-collapsing stock option for carbine-length buffer tubes. The MOE Fixed Carbine Stock has a slim profile, improved cheek weld, and multiple sling attachment options, and is compatible with the ASAP Plate and PRS Extended Rubber Butt Pad. Installation is non-armorer and does not require the castle nut or lock plate to be removed

Choose your Magpul MOE Fixed Carbine Stock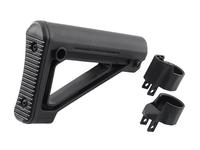 Black
SKU: MAG480-BLK

UPC: 873750007960

as of 10/22/2021 9:33PM CST



Store Inventory
Available Online
More than 5
Fountain Valley, CA
Out of stock
The Colony, TX
More than 5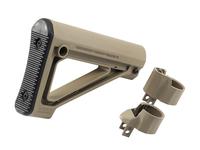 FDE
SKU: MAG480-FDE

UPC: 873750007977

as of 10/22/2021 9:33PM CST



Store Inventory
Available Online
3
Fountain Valley, CA
2
The Colony, TX
1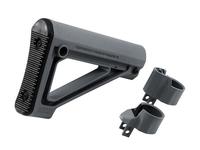 Gray
SKU: MAG480-GRY

UPC: 873750011738

as of 10/22/2021 9:33PM CST



Store Inventory
Available Online
More than 5
Fountain Valley, CA
4
The Colony, TX
3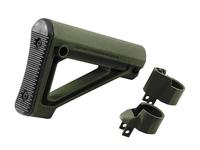 OD Green
SKU: MAG480-ODG

UPC: 873750007991

as of 10/22/2021 9:33PM CST



Store Inventory
Available Online
Out of stock
Fountain Valley, CA
Out of stock
The Colony, TX
Out of stock
Enter your email address below to receive an email when the product is back in stock:


Inter-Store Transfer
If this item is out of stock at your local RifleGear but available at our other location, no problem. Just place your order and select In-Store Pickup as the shipping method. As long as the item is legal in your location, we will transfer the item for you.
You will be notified by e-mail when your item arrives.
Magpul Original Equipment (MOE) is a line of firearm accessories designed to provide a high-quality, economical alternative to standard weapon parts. The MOE line distinguishes itself with a simplified feature set, but maintains Magpul engineering and material quality.

The MOE Fixed Carbine Stock – Mil-Spec Model provides a fixed, non-collapsing stock option for carbine-length buffer tubes. The MOE Fixed Carbine Stock has a slim profile, improved cheek weld, and multiple sling attachment options, and is compatible with the ASAP Plate and PRS Extended Rubber Butt Pad. Installation is non-armorer and does not require the castle nut or lock plate to be removed

Made in U.S.A.